News & Events
This Week in IDEA | July 14, 2011
Our eNewsletter, This Week in IDEA, keeps you informed with the latest news and education about IDEA, our solutions and services, and our customers and partners. IDEA's knowledgeable staff and other contributing writers share insights, resources and special offers to help you Unleash the power of e. Subscribe now to receive This Week in IDEA in your email inbox every other Thursday and add our RSS feed to your reader.
Contents
Subscribe to This Week in IDEA
For Hubbell, eBusiness is a Philosophy
A conversation with Phil Barrios, Sr. Director, Corporate Marketing & eBusiness, Hubbell; IDEA Board Director; IDEA Industry Standards Committee (ISC) Chair
Hubbell Incorporated recently revamped the eBusiness section of their corporate website including an animated video that walks you through the benefits of eBusiness and the different options Hubbell supports to increase productivity with their partners. IDEA caught up with Phil Barrios, Sr. Director, Corporate Marketing & eBusiness, to find out more about their latest efforts. We discovered their website was just the tip of the iceberg – eBusiness goes much deeper into their corporate culture and philosophy with programs such as the Hubbell Sustainability Initiative (HSI).
IDEA: Can you please explain how and why Hubbell decided to create an eBusiness section of the website, and promote the benefits of Hubbell eBusiness to the industry?
Phil: The eBusiness section had been on the website since we completed a redesign about three years ago. However, it just listed some basics about electronic data interchange (EDI) and Vendor-Managed Inventory (VMI) capabilities. Every year we review our corporate communications strategy and decided that we needed to expand and re-emphasize all the eBusiness offerings available from Hubbell such as the Industry Data Warehouse (IDW) and Net Pricing. The website became part of a coordinated media campaign that also featured an ad utilizing a QR code in TED Magazine and an electronic brochure that is in the works for later this year. The other reason we wanted to enhance the "breadth of offering" was its tie-in to Hubbell's Sustainability Initiative (HSI). Manual and paper processing is neither efficient nor eco-friendly, and replacing that with electronic and paperless processes is a better choice for all.
IDEA: Do you think that all manufacturers and distributors have a responsibility to proactively communicate the benefits of eBusiness?
Phil: It really is up to each company; we have certainly seen benefits in a number of areas we employ eBusiness principles. Some companies even view eBusiness as a competitive edge -- enabling them to reduce their costs which result in either more profit and/or the ability to be more nimble than their competitors. As for sustainability, most definitely! It only makes sense to promote the benefits of eBusiness as an essential way to reduce waste and preserve natural resources.
IDEA: Hubbell is a leader in advocating the benefits of eBusiness; what have you found works well/what doesn't?
Phil: Active participation in the industry has given us the most effective means to get the word out. Whether it was Tim Powers as IDEA Chair, my role in the IDEA Industry Standards Committee, or the many other Hubbell staff that have been members of NEMA and IDEA subcommittees over the past two decades; we are out in public, actively involved and trying to inch the ball toward the goal line. We are also early adopters – we were one, if not the first company in the industry, to provide incentives to our trading partners to conduct EDI. In some cases, we physically went to distributor offices to install and train them on how to use our PC-based application back in the mid-90's, which eventually migrated to our Customer Portal, myHubbell.com.
IDEA: For the smaller companies that have fewer resources, do you have any suggestions for quick and easy strategies/tactics that have a high return?
Phil: Yes, I strongly recommend that these companies seek technology partners that can provide Software as a Service (SaaS) options, rather than making huge investments in software licenses, or development costs. The SaaS model provides a lower cost entry point, often bundled with tech support and training. SaaS is not just for smaller companies though; in fact, it is a model Hubbell followed for its VMI solution. Using the SaaS option from Datalliance (http://www.datalliance.com/), we've had tremendous success while lowering costs for our trading partners,and providing an excellent return for both.
IDEA: Any other advice for readers who are considering an eBusiness initiative at their company?
Phil: Get support from the top. We are fortunate to have Tim Powers, our Chairman, CEO and President, as an outspoken advocate for initiatives under the eBusiness umbrella, especially the use of the Industry Data Warehouse (IDW) to share product data securely with authorized distributors in one place and one format. We view this approach as the most efficient means to synchronize our product information and it fits nicely with lean manufacturing principles and our sustainability initiatives. eBusiness solutions should be a priority for those who want to eliminate waste (i.e. functions that don't provide value-add such as rekeying data), improve the speed and effectiveness of new product introductions, streamline their business processes, and benefit from employee productivity (doing more with less).
IDEA: Sustainability seems to be a common theme – can you please tell me a little more about what you mean by that? What else in addition to eBusiness is covered in that initiative?
Phil: Sure, notable parts of our sustainability initiative are to better manage our resources, eliminate waste, and incorporate lean manufacturing as a means to improve how we do business. We conduct numerous Kaizen events throughout the year that identify "green" opportunities and focus on continuous improvement of business and manufacturing processes. At Hubbell, we empower our employees to stop production if they see anything that is incorrect or inefficient, and then schedule a time for everyone involved in that process to go into a room, map it out, and brainstorm ways to fix, redesign or redefine the process. We don't leave until an improvement has been made. For example, when we started automating business processes with our trading partners via EDI, we noticed that the process took longer than we'd like. We held a Kaizen event to help identify bottlenecks, and to our surprise, there were over 100 steps involved from the time the trading partner called requesting to be set up with EDI to when implementation was completed. We mapped out the process and identified many ways to streamline the workflow; the improvements that resulted sped up implementations and cut costs for both Hubbell and our trading partners. A lot of times companies think that converting manual processes to electronic processes (e.g. EDI) is where the work stops, but it's important to reevaluate your business processes after the technology changes so that you can maximize your investment.
IDEA: Any closing thoughts?
Phil: I am concerned that the industry isn't moving fast enough to integrate eBusiness into all aspects of our daily business and I challenge both management and technical professionals to shift their focus from the technology of eBusiness to a philosophy of improving how we conduct business. EDI does not equal eBusiness – eBusiness is about looking at all the processes in your company and determining if there is a better way to reach a goal or complete a task electronically. Just because a company has performed a task a certain way for years, doesn't mean it can't change or improve. If your intuition tells you that something is inefficient, my advice is to speak up and take action. Odds are good that there is a way to improve that process, ultimately saving time, money and valuable resources – enabling the electrical channel to be more competitive and continue as the channel of choice.
Tags for this post: hubbell phil barrios
IDEA E-Biz Forum Brings the Technology to You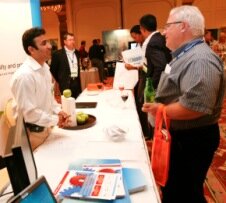 A staple of the E-Biz Forum, the Tech Center, will once again unite technology companies and electrical industry leaders in a dynamic exchange of information and business. IDEA is proud to announce the first 10 exhibitors as well as confirmed forum attendees so far for the 2011 event .
The Tech Center is a trade show held during the Forum Welcome Reception and throughout the first day of the Forum. This year, a new iPod touch with Facetime will be given away to three attendees who visit with each exhibitor and participate in the Tech Center passport program.
Meet our first 10 exhibitors:
Epicor Software Solutions (formally Activant) – a global leader delivering business software solutions to the manufacturing, distribution, retail and services industries.
Unilog Content Solutions - India's leading catalog management and data cleansing company.
DATAgility - a premier provider of data services that helps suppliers and their distributors achieve and maintain quality data.
Aspect – a leading Microsoft solution provider enabling productivity gains by deploying scalable technology solutions that align employees with critical business processes.
EDI Specialists – a premier staffing and services provider that delivers solutions and services in the areas of e-Commerce, EDI, EAI, Microsoft Technologies, and IT.
Faxinating Solutions – a solutions provider that helps companies leverage their EDI investments and extend compliancy to non-EDI trading partners.
MCA Associates – a team of senior consultants providing idea and lean thinking leadership to distribution and manufacturing companies that are committed to operational excellence.
Sterling Commerce, an IBM® Company –helps organizations increase business agility through innovative solutions for selling and seamless integration with customers, partners and suppliers.
TechniCon – the developer of a web-based platform to transform and manage complex product information.
Third Eye Consulting Services & Solutions LLC. – an experienced provider of next-generation customized Internet software solutions for accessing critical information securely and reliably.
Find out more about these exhibitors and see who's attending.
Tech Center booths are going fast – find out what's left and register today!
Need more details? Learn more about the Tech Center and download the Tech Center and Sponsorship Prospectus to find out all the benefits of exhibiting and sponsoring the 2011 Forum.
Tags for this post: ebiz forum tech center
Three Missing Steps in Supply Chain Optimization
Content courtesy of Modern Distribution Management
Jonathan Byrnes is a senior lecturer at MIT whose blog focuses on profitability management for several industries, including distribution. Byrnes recognizes that the slow economy is forcing customers to minimize their inventory and increasingly rely on distributors for fast service. While strong distributors can capitalize on this dependence to increase business, they also must shoulder a big cost burden. As a result, the cost dynamic has an extremely strong impact on profitability, and supply chain costs must be critically evaluated. He recommends three steps to incorporate into implementing supply chain optimization processes: dividing the business, working with customers, and involving sales reps.
Tags for this post: modern distribution management magazine jonathan byrnes
Jennifer Yi and Kimberly Terrell Join the IDEA Team
Jennifer Yi, formerly of J SHOES Inc., has joined the Sales and Marketing team as the Marketing Coordinator. Yi will implement various marketing and communications projects to help IDEA further its mission of cutting costs from the electrical supply chain. She will work with IDEA customers and partners to publicize information about emerging technologies and IDEA's new resources, products and services. She will play an integral role in deploying this eNewsletter, so please send her your feedback including topics you'd like to be included in the future.
During her time at J SHOES Inc. as the Marketing and PR Associate, she designed and distributed social media and email marketing campaigns, managed search engine optimization, maintained operations of the brand's e-commerce site, and acted as a brand ambassador to consumers, wholesale customers, and editorial press at trade shows and press events. She graduated from Johns Hopkins University (MD) with two Bachelor degrees in International Studies and East Asian Studies and a minor in Entrepreneurship & Management.
Jennifer can be reached at or at . Please join us in welcoming Jennifer to the IDEA team!
Kimberly Terrell, formerly of Wachovia Bank, has joined the Finance and Administration department as the Accounting Assistant. Terrell assists the Director of Finance and Administration with accounting tasks including invoicing and daily deposits. In addition, she oversees front desk operations and will assume several administrative and office management duties.
During her time at Wachovia, Terrell worked in retirement services and consulted with clients on investing their plan contributions. Terrell was involved with the D.C. public school system and has served at Murch Elementary School as a Teaching Assistant for special needs students. She graduated with a B.A. in Business Management from Johnson C. Smith University (NC).
Kimberly can be reached at or at . Please join us in welcoming Kimberly to the IDEA team!
Tags for this post: employees jennifer yi kimberly terrell
New B2B eCommerce and Synchronization Customers
New IDX Customer
Apex Tool Group, LLC, a manufacturer from Apex, NC, became an Industry Data Exchange (IDX) customer on July 5, 2011. Specializing in hand tools, power tools, and tool storage for industrial, commercial, and do-it-yourself customers, APEX Tool Group is committed to delivering a diverse selection of premier products, continuous improvement, and excellent customer service. They will take advantage of the cost savings and reliability of IDX to exchange B2B documents electronically. Find out more at http://www.apextoolgroup.com/.
New IRD CERICOMX Customers
As a 1SYNC Data Pool On-Board Solution (OBS) partner, IDEA implements suppliers that subscribe to the 1SYNC data pool using the IRD CERICOMX® Data Synchronization Platform. IDEA was recently assigned twenty-five suppliers:
Yogurt Technologies
Annex Food Company
Hisamitsu American
These companies will be trained to use IRD CERICOMX®, an online catalog that suppliers use to register product data with the GS1 Registry® and GDSN via the 1SYNC Data Pool. Suppliers also use this solution to publish product data to demand partners including retailers such as Lowe's and Walmart.
Tags for this post: customers idx ird apex