Exhibit at the Tech Center
Share your eBusiness expertise.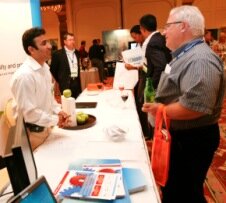 Forum attendees are prepared to learn about eBusiness solutions and services as soon as they register. Exhibitors play an active role by educating about and demonstrating the latest business-to-business technology advancements at the Forum Tech Center. The Tech Center provides an intimate setting for you to interact with attendees at the Forum Welcome Reception and throughout the entire first day.
All exhibitor tabletop booths must be secured by filling out the exhibitor form. Online registration will be coming soon.
Exhibitor Benefits | Special Offers | Past Exhibitors | Tech Center Schedule and Exhibitor Fees
Exhibitor Benefits
Sign-up early to get an exclusive speaking opportunity
This year IDEA is offering four lunch educational sessions to boost productivity. These limited speaking opportunities are available exclusively to exhibitors and sponsors. This gives you even more time to share your eBusiness expertise with an attentive audience and ignite an interactive discussion with an influential group of professionals in the electrical supply chain and other related verticals including retail. After your exhibit booth or sponsorship is secured, you can email your speaking abstract to to qualify. Hurry... spots will be filled on a first come, first serve basis.
Other benefits:
Two complimentary Forum "all access" registrations (a $1,300 value!)
Table top display at Tech Fair Welcome Reception and Tech Center
Complimentary wireless Internet access
Complimentary electrical drop
Company description, logo and link on Forum website
Company description in program guide (deadline 8/16/13)
Forum attendee contact information (pre-show list sent 9/13/13; post-show list sent 10/04/13)
Six month listing in IDEA Yellow Pages

Traffic guaranteed.
Thanks to IDEA's annual Passport Program and one-on-one Technology Speed Dating sessions, exhibitors can be assured booth traffic. Registration, networking events, meals and breaks all revolve around the exhibit hall. Three attendees that visit and meet with the most exhibitors will be selected in a raffle to win a new iPod Nano with touch sceen (past prizes include: iTouch, Garmin GPS, iPod Touch, Flip Mino Video Camera). This program is a win-win for attendees and exhibitors.
Special offers:
Get double the exposure for less - purchase two booths side-by-side!
Make an impression on attendees before they visit your booth - distribute your company brochures in the attendee registration gift bags to be given to attendees as soon as they arrive to the Forum. $250 per brochure insertion.
Examples of past exhibitors:
Data Management and Synchronization:
Unilog
DATAgility
BlueVolt
ByteManagers
Computer Pundits
Enterworks
Gillani
epaCUBE
GS1 US and 1SYNC
Heiler Software
Stibo Systems
Supplier-Info
SMP
Enterprise and eCommerce:
Epicor (formerly Activant)
Aspect
eMobile Cat
Sterling Commerce
Infor
Lawson Software
LG CNS
NetPricer
SAP
Third Eye Cloud Services

Cash Flow and Billing:
Billtrust
Diamond Mind
Invoice Connection
Tech Center schedule and fees
The Tech Center will open in conjunction to the Welcome Reception and will close at the end of the first full day to conserve your time and resources. Exhibitors are welcome to stay and attend the closing educational and training sessions of the last day.
Events to draw attendees into the exhibit hall:
Attendee registration (located in front of the exhibit hall)
Welcome Reception and Tech Fair
Technology Speed Dating Sessions
Breakfast
Lunch
Morning and afternoon refreshment breaks
Exhibitor fee schedule:
$1,750 before June 28
$2,250 July - August 23
$2,750 after August 23
Specials: Additional booth -- $950
Collateral in attendee gift bags -- $250/brochure
Tech Center
Wednesday, September 25

12:00 - 3:00 pm: Tech Center Set Up
6:00 - 9:30 pm: Registration opens/Tech Fair & Welcome Reception

Thursday, September 26

7:00 am - 5:00 pm: Tech Center Open (Closed during General Sessions)
7:00 - 8:00 am: Registration/Continental Breakfast in Tech Center
10:00 - 10:15 am: Morning Break in Tech Center
11:00 am - 1:00 pm: Networking Lunch in Tech Center
2:55 - 3:10 pm: Afternoon Break in Tech Center
3:10 - 5:00 pm: Breakdown

6:30 - 10:00 pm: Networking event